TurkishWIN@New York hosted Ebru Özdemir, Chairwoman at Limak Investments and Limak Foundation, to share her experiences in "Inspiring the Next Generation of Female Engineers" on September 26, 2018 at Herrick Feinstein LLP.
In this cozy learning circle we were inspired and touched by Ebru Özdemir. She is a civil engineer by training and not only shines in a male-dominant industry but also inspires us all with her leadership in social responsibility projects for women engineers. You can watch her TurkishWIN Talk here.
This interactive learning circle was moderated by Melek Pulatkonak, Founder of TurkishWIN. An interactive discussion followed. Melek opened up the discussion with an overview of the challenge:. Women's labor force participation in Turkey is at a dismal 30% level. If we raise this number to 60% levels- OECD average- our GDP will increase by 20%. Although Turkey does not rank as badly in women in STEM education levels, the same structural challenges hold back women in employment participation levels. Melek gave a quick overview of TurkishWIN and BinYaprak programs that target to increase the number of women in STEM. You can review the outline of our STEAMWIN program here.
Ebru Özdemir first shared her story and then gave us an outline of the Engineer Girls in Turkey program. Limak Foundation's flagship Program Engineer Girls of Turkey (EGT) was launched in 2015. The program's main goals are to help young women to reach financial independence, to create a vibrant community motivating each other continuously and giving back even after their mentorship end. The voluntary education and mentoring program are conducted by female engineers working in Limak and other female engineers in Turkey who stand out in this field.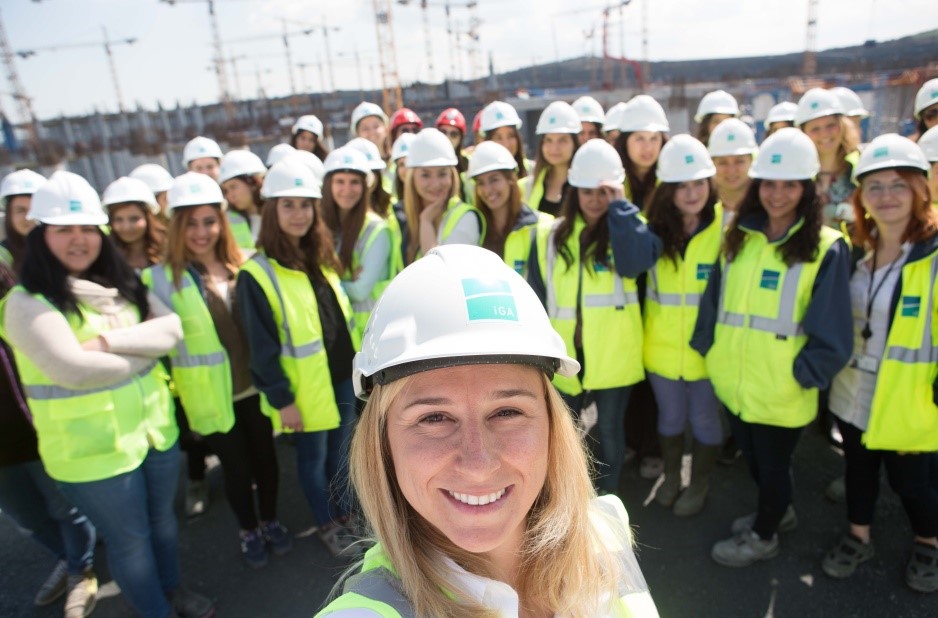 Limak Foundation' efforts on EGT have already started leading the way by scoring fundamental changes to gender equality and women empowerment in Turkey..In the last 3 years, 180 professionals, all women, have formed a large pool of mentors Moreover, at the related programs of the Limak Foundation, more than 20,000 high school students, educators, parents, and more than 5,000 children (age 3 to 6) and their parents were trained. While Limak Group continues to grow nationwide and internationally with more mega-projects inside and outside Turkey, Limak Foundation decided to launch a parent program in Kuwait. Kuwait's Engineer Girls Program was established in October 2017 with the goal of increasing Kuwait's local professional capacity by funneling more Kuwaiti citizens, particularly women, to thrive in the country's private sector.The first graduate cohort, 30 female engineers, graduated in March 2018 from the program.We thank Ebru Ozdemir for inspiring and supporting Turkey's young women engineers. The next generation of women engineers, we are counting on you!
We thank Herrick Feinstein LLP for hosting us. And last but not least, our New York chapter leads, Didem Aytürk and Çağla İçacan, thank you for leading this amazing learning circle. We are always your big fans!