Career twists and change management in professional life. This was the topic of our learning circle on February 20, 2019. Yaprak Metin was our curator with fellow TurkishWINner Işık Aydın Deliorman, founder and CEO of Novida Strategic Management Services, as her speaker. Yaprak is the founding partner of Matrix Talent and Management Consulting.
We were in for a treat as Yaprak and Işık had the chance to work together at Microsoft Turkey and had lots of stories to share. The discussion and questions focused on the flow and change management in business and life.
We first listened to Işık's inspiring story. After a trailblazing career at multinational companies such as HP and Microsoft, Işık started her own company, Novida Strategic Management Services, offering services to enhance clients' strategic, business, operational, organizational and leadership performance and effectiveness with focus on innovation, transformation, re-structuring, business growth, M&A and internationalization efforts.
She emphasized the importance of recognizing oneself in order to make choices that will make you happy in professional life. Işık's motto "I can do it!" charged us all fully! She has shared that at every step on the way she had a great team- both at home and work. At important twists and turns, she was encouraged both by her husband and managers during her career journey. It takes a village to raise children and build a demanding career.
Işık invited us to discover the power of rejection. She shared with us her stories of rejection. When you do not get that position or raise, what do you do? She encouraged us to see rejection as an opportunity to first discover and then to work on our weaknesses. Her story inspired us. Well, this perspective is certainly refreshing since failure or rejections are a big part of our lives if you continue to raise your hand for the next big thing. We also challenge you to evaluate a bad interview or a tough feedback session with perspective.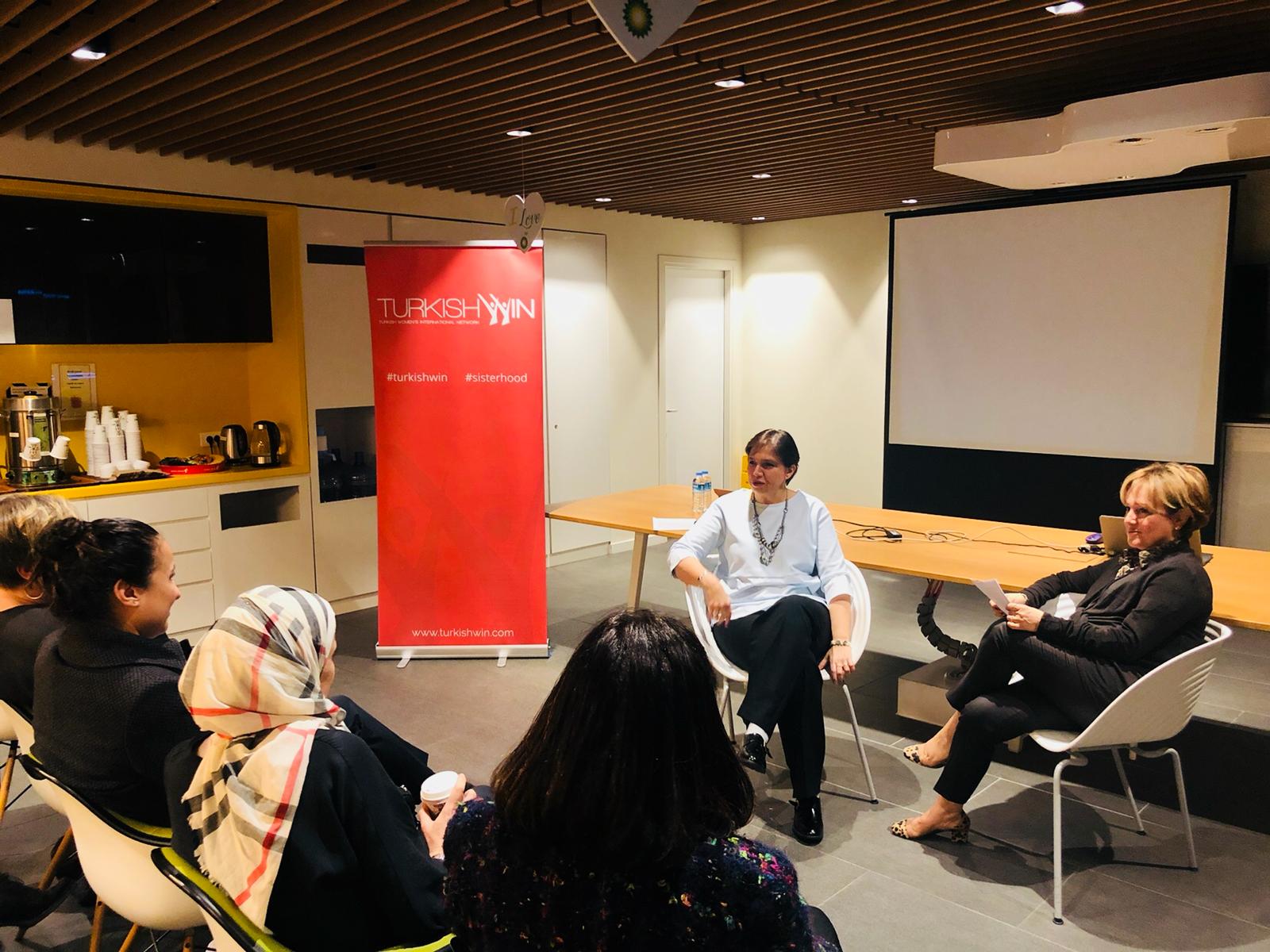 A nugget of wisdom also went to new graduates: find where you can add value. Do not limit yourself in your field of study. For example, a sociology grad might be successful in a technical field. Education is just a substructure of a person. As long as we continue to work on our value proposition, where we add value, success will be inevitable! Işık underlined that skills are the key point and knowledge can be learned. Coming from a former HR Business Partner at Microsoft, we were all carefully listening to her insights. We have the recorded discussion available for our members to catch up on this event. If you are a member, log in to turkishwin.com and listen to this session at this link. Here are some key takeaways:
Relationship management constitutes the main volume of a business.
Give back. When you have 8 -10 years into your career, invest in young talent and transfer knowledge to newcomers. Building sustainable teams will grow you in your career and is good for business.
Know yourself and how you add value.
Discover the power of rejection to grow.
Support female talent in your company.
Yaprak's thoughtful curation and questions led the way. We thank Yaprak Metin for inviting amazing speakers to the learning circles she curates. Thank you dear Işık Deliorman Aydın for sharing your experiences and distilled lessons. We also thank the awesome BP Turkey team, our fab corporate member, for hosting us. You can check out the event photos on our Facebook album here.
May the inspiration and sisterhood be always with us.