We are grateful for your sisterhood and commitment to building a gender-equal future. We cannot wait to celebrate YOU and what we co-create in 2023. ✨
2023 is a landmark year for us and for Turkey. We will celebrate the 100th anniversary of the TurkishWIN Republic - the 100 years of strong women and our leadership in Turkey. Together we are planting seeds for the next 100 years in our infinite mindset. Our 2023 motto is #strongertogether
You can watch this short video to learn about our 2023 vision, goals, and moonshots. Let us rise and lift others. We are #strongertogether.
It takes a village to build a sisterhood circle. To celebrate our successes and to thank our community for this fantastic journey, we have shared our awards, a small token of our appreciation. We thank everyone, wholeheartedly, from the bottom of our hearts. We have three award and thanking categories: TurkishWIN Circle Awards, Give Back Circle Awards, and Partner Awards.
TurkishWIN Circle Awards go to these amazing women and men:
Our Germany circle rocks! With our sisterhood from all around the globe, we rely on our sisters in different countries to lead our local circles✨ Our Germany Circle wins again- the "Most Active Location Circle Award" in 2022. We thank our circle co-leads, Pırıl Kadıbeşegil Yaşar, Gamze Gürbüzatik, Funda Haktanır, and Nilgün Akdoğan for your hard work ❤️ Nilgün, welcome to this great leadership circle as our newest co-lead.
Our People & Culture Circle has been sparkling with activities! Not only did this amazing team contribute to CampusWIN Academy Online Trainings but they are also hosting monthly Office Hours at BinYaprak. This circle has exciting upcoming events and programs for us all in 2023. We congratulate our People & Culture Circle for their "Most Active Circle Award." Our co-leads, Özge Yılancıoğlu Erol, Emre Delice Mine Yücesoy Dirancı, Burcu Kaptan, Pelin Cebi, Elif Tutum Tuncer, Birce Albayrak, Gökçe Kulak and Güler Yıldırım, you are amazing ❤️Thank you for your leadership and giveback.
We all stand on the shoulders of trailblazer women and men who have mentored us. Gaye Göker is hands down one of our super mentors and wins the "2022 Mentor Award." Her mentees at TurkishWIN and the EBRD Women in Business Mentoring program follow her wisdom and guidance for life. Thank you sister for always sharing your wisdom and positive vibes very generously. ❤️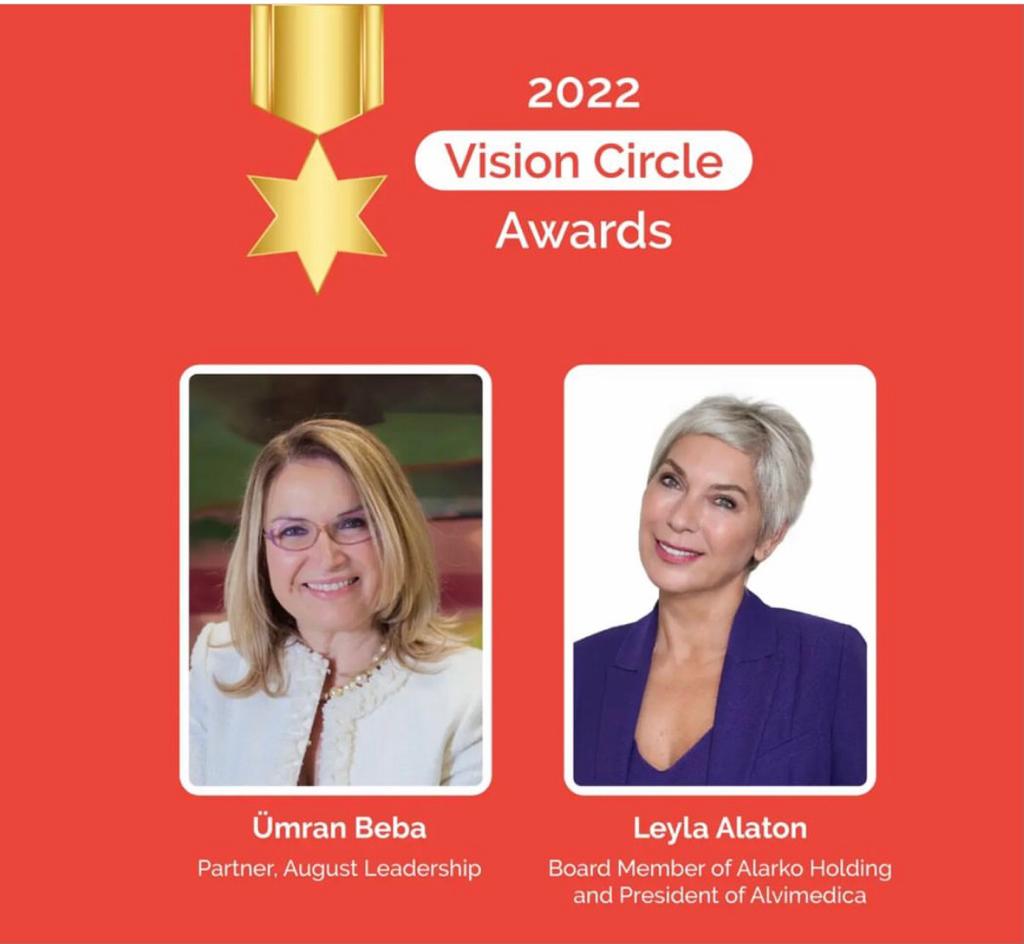 Sometimes you look but do not see what you are made of or miss the fact that you can dream bigger dreams. As the TurkishWIN team, we are grateful to our Vision Circle leaders for guiding our community to bigger challenges and social impact opportunities. Our visionaries, Leyla Alaton and Ümran Beba, we are grateful for your inspirational sparks and continued support. You are awesome ❤️
"Whatever you want your life to look like, you can find a support network to cheer you on and find a way to make it happen." – Carrie Melissa Jones

Sister Carrie, you have inspired us, keep on inspiring us, and have built a support network for us to build a community we love and keep on growing. As the TurkishWIN team, we no longer feel alone in our journey as community builders. As Rumi says, "A candle never loses any of its light while lighting up another." Thank you for keeping the light and always on inspiration on sister, our "2022 Inspiration Award" is yours! We are forever grateful.
Allyship includes action and advocacy, crucial to creating lasting, impactful change to build a gender-equal future. As the TurkishWIN family, we are lucky to have strong allies, #heforshe role models, actively working with us to be the change we want to see. Our "2022 #HeForShe Awards" goes to Rahmi Aktepe, Korhan Beba, Ender Özdemir, Mahmut Sipahi, Nazım Ünlü and Mehmet Üvez. Thank you for all your hard work, time and support. ❤️
Everyone is a change-maker at Ashoka. Everyone is a change-maker, a one-woman army at TurkishWIN. Our 2022 Most Impactful TurkishWIN members have contributed ideas, connections, and interaction recipes above and beyond our impact circles. Selen Okay Akçalı, Pelin Cebi, Banu Akın Köylüer, Nazlı Özek, Berrak Sarıkaya, Elif Tutum Tuncer, and Sanem Yıldız. You are superstars. We thank you from the bottom of our hearts. ❤️
We are big fans of our #GiveBack circles. We thank all our members and ecosystem partners for joining us with our mission to help women build careers they love. Our #GiveBack award winners are:
The "2022 Most Impactful TurkishWIN #GiveBack Circle" award goes to our Million Women Mentor Turkey circle. Kudos to everyone who has contributed to this STEM movement. You know who you are. You are a rock star!
BinYaprak is our #GiveBack platform and comes to life with the leadership of TurkishWINners. Some of you may know the BinYaprak Book Club which has now over 1100 members! In 2022, the Book Club and her co-leads have started to meet regularly and have more surprises up to their sleeves. The "2022 Most Active BinYaprak Lead" award goes to Zeynep Dicleli Erdoğan! Zeynep is not only a publisher but a great book lover and an avid reader. Zeynep, you are the best! We thank the entire Book Club circle team for their dedication and contributions.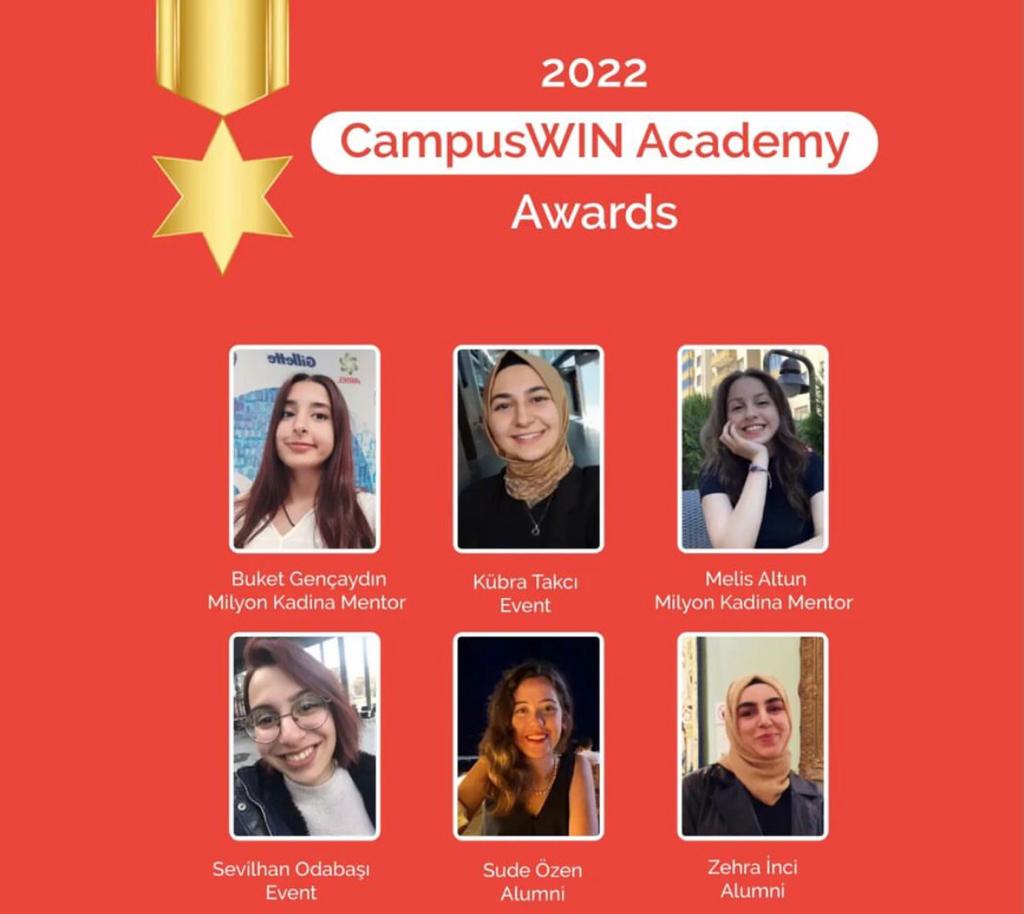 CampusWINners are our sisters from other misters who lead beyond authority and borders. Keep on shining. This year's changemaker "2022 CampusWIN Academy Awards" goes to three teams with great leaders: Million Women Mentor, Events, and CampusWIN Alum Network. Sisters, you inspire us with your strength, dedication, and ideas: Buket Gençaydin, Kübra Takcı, Melis Altun, Sevilhan Odabaşı, Sude Özen, and Zehra İnci. 💫
Our CampusWIN alums are now leading at the workplace and still make time to continue to #GiveBack and be the change they want to see. The "2022 CampusWIN Alum Award" goes to Güler Yıldırım for her contributions to the People & Culture Circle. Your leadership exemplifies the CampusWIN spirit sister. Keep inspiring us every day!
It takes a village to raise a child. It takes an army to build a gender-equal future. We are grateful for our partners who inspire us, support us, and co-create with us. We are stronger together and with your support, our "2022 Most Impactful Partner" honorees: Aeris Coaching, Assembly Buildings, DISC Academy, EMCC Turkey, and ManpowerGroup Turkey. Your camaraderie means the world to us.
Our long-lasting partnerships, which have grown richer and deeper, are the wind behind our wings. We are grateful for having amazing partners in our collective change-maker journey. Our "2022 Long-Standing Partner" honorees, Eglence Fabrikasi, Fayda Studio, KAGIDER, and Xsights Research and Consulting, thank you for your solid partnership.
"2022 Most Impactful Newcomer Partners," our heads are still turning with your impact and contributions: Askıda Ne Var, Kampüste Ne Var, and Echo Leadership. We are so delighted and grateful that you have joined our change-maker community of #giveback partners. Thank you for your generous contributions! We have only one more thing to say: "We wish we have met sooner."
Let us rise and lift others. We are #strongertogether and ready for 2023!