Every day is Women's Day for the TurkishWIN community. But today marks a new beginning for us.
From 1 to 1 MM. We celebrated International Women's Day by embarking on a new giveback journey: Milyon Kadına Mentor program.
At TurkishWIN, we have been running a mentoring program since 2012 and a STEM youth program since 2015. When we heard about the Million Women Mentor program, we knew that all our know-how and passion for networking for change has prepared us for today: to bring change and impact in scale.
Milyon Kadına Mentor connects private, public, and NGO sector leaders with young women (15-25 year old) for mentorship opportunities in STEM (science, technology, engineering, and math) fields.
The program was founded together with the U.S. Chamber's U.S.-Turkey Business Council and its Women in Business Initiative, alongside the project partners TurkishWIN's BinYaprak platform and TOBB. The program convenes STEMConnector's global expertise and TurkishWIN's wide network of mentors and mentees and is supported by our Founding Circle partners: Beba Foundation, Limak Holding, Logo Yazılım, and PepsiCo Turkey.
The program has three goals:
Activate companies and change agents By providing an umbrella for mentorship programs targeting female high school, university students, and young professionals.
Convene leading STEM mentoring program across Turkey to raise awareness to the amazing work of our stakeholders.
Curate 1,000,000 mentoring relationships To support women and girls in STEM careers over the next 10 years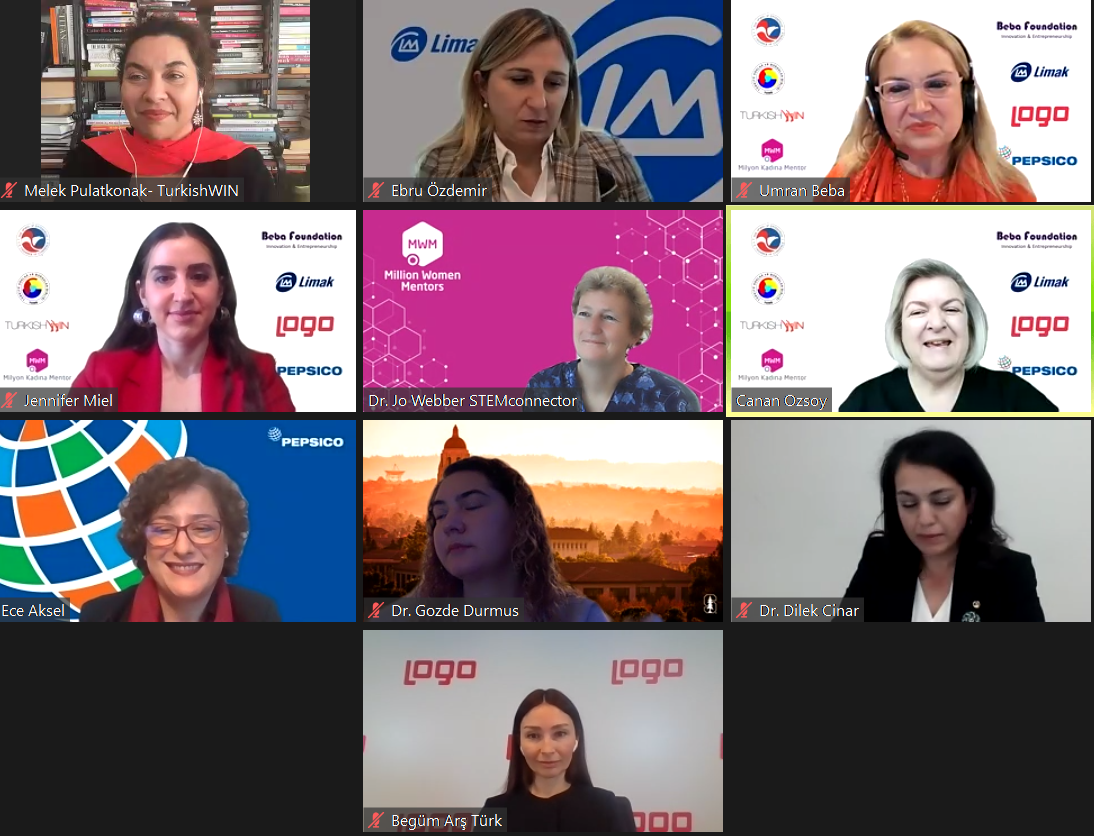 Virtual Kick-off
Our kick-off event took place with the opening remarks by Jennifer Miel of the U.S. Chamber of Commerce, U.S.-Turkey Business Council, Dr. Dilek Çınar, the TOBB Kocaeli Women Entrepreneurs Council President & Co-Founder of Tinkdata Technology (The Union of Chambers and Commodity Exchanges of Turkey), and Umran Beba, Partner of August Leadership & Co-Founder of BEBA Foundation, Canan Özsoy, CEO of GE Turkey and Jo Webber of STEMconnector.
After we heard the remarks by our Founding Circle Members, Ebru Özdemir, Chair of Limak Group, Begüm Arş Türk, Chief Marketing Officer of Logo Software Company and Ece Aksel, Senior Vice President & Turkey General Manager of PepsiCo, followed by the inspirational story of Dr. Gözde Durmuş at Stanford University.

Our Founder, Melek Pulatkonak, unveiled the Million Women Mentors/Milyon Kadına Mentor program in a short presentation.
Who can join the program?
Everyone - organizations and individuals.
If you represent a company, university, higher education institution, or civil society organization, we cannot wait for you to join the Million Women Mentor community.
As an organization you may have your own program or building one- please submit your pledge.
You may have a team and prefer to join the BinYaprak 1:1 mentoring program, please submit your pledge.
Tell Me More About Mentoring
We ask that the mentors commit to 6-10 hours in mentoring time in a 6 month period.
Mentors should have at least five years of work experience, three of which should be in STEM fields. Mentors can be male or female.
The mentees are young women, 15-25 years old, who have aspirations for STEM Careers.
How Can I Contribute?
We invite you to share Milyon Kadina Mentor movement and activate your impact circles in
Your company - by encouraging your management to submit a pledge
Your university or student club
Your civil society circles
Your social media circles
This year's International Women's Day theme is ChooseToChallenge. We cannot think of a better way than celebrating today and challenging the status quo with the Milyon Kadina Mentor program.
A journey of a thousand miles starts with a single step. It is a pleasure to take this step with you.
We are counting on your support and participation in the journey to inspire and empower 1 million young women in STEM in Turkey.
To learn more about the program and join the movement, visit the program website.