We were thrilled to partner with Facebook Turkey to celebrate the International Women's Day in London on March 10, 2018. Hearty networking, a fun concert and an inspiring fireside chat uplifted our spirits.
Derya Matraş, Country Manager of Facebook Turkey hosted 'HERStory' fireside chat with Sertab Erener, internationally-acclaimed musical artist, #SheMeansBusiness entrepreneur and Founder of Girandola Aslı Eraltan, Cansen Basaran-Symes, Chair of the Board of Directors at Allianz Turkey and our very own Melek Pulatkonak, Founder of TurkishWIN and BinYaprak.
We had a wonderful crowd thanks to the leadership of Seda Yalcinkaya, our London Chapter Lead with great support from Margery Magill, our Communication Lead, who was based in London at that time. The event was hosted at Facebook's London office with over two hundred people in attendance and an amazing stage for the concert of the amazing Istanbul-based Rock Band Oceans of Noise.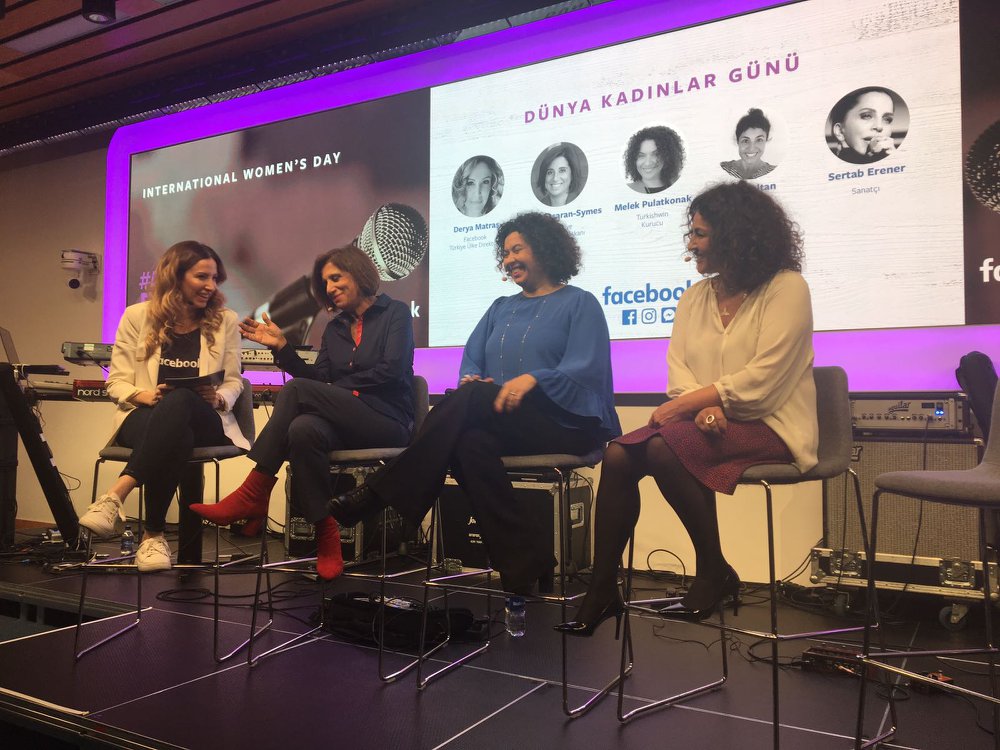 The fireside chat was fun and inspiring. We had fun watching the panelists answer rapid-fire questions: Pop or rock; Coffee or tea; Kadayif or Pilates. Curious about the answers?
We also learned more information about Facebook's #SheMeansBusiness program which provides a space for entrepreneurial women to make valuable connections, share advice and move forward, together. Check it out here.
This entire event was stream from Sertab Erener's Facebook Page. You can watch the talks and the concert here at this link. As you can guess, the recording quality is amazing!
For those who have yet to discover Sertab's new band, Rock Band Oceans of Noise, follow this link.
We would like to thank the fantastic Facebook London team for hosting us. In addition to our team in London, a big thanks goes to Damla Tezcan, our former CampusWINner – current TurkishWINner, who supported us at the event and our BinYaprak & TurkishWIN teams whose love and laughter we heard all the way from Istanbul.
Happy International Women's Day to us all!