Last night, TurkishWIN members gathered at the Soho House in Istanbul for "Choices", our first TurkishWIN Talk of the season. TurkishWIN Talks are our core program to empower and inspire our tribe, with over 200 videos now online! We were excited to have a full house.
The evening began with a networking hour where old friends reconnected and new ones had the chance to meet. TurkishWIN and BinYaprak Founder Melek Pulatkonak started the event with a cheerful welcome and brief overview of updates on new programs. She emphasized the importance of working collectively as a sisterhood to grow our global reach and our impact in Turkey with our digital sister platform BinYaprak.com. CampusWINners and TurkishWINners now work together to build digital tribes around professions like "career choices for architects or data scientists" or competencies like "emotional intelligence" at BinYaprak.com. If you have not checked out our Turkish platform that facilitates sisterhood at work across 81 cities in Turkey, please do so now!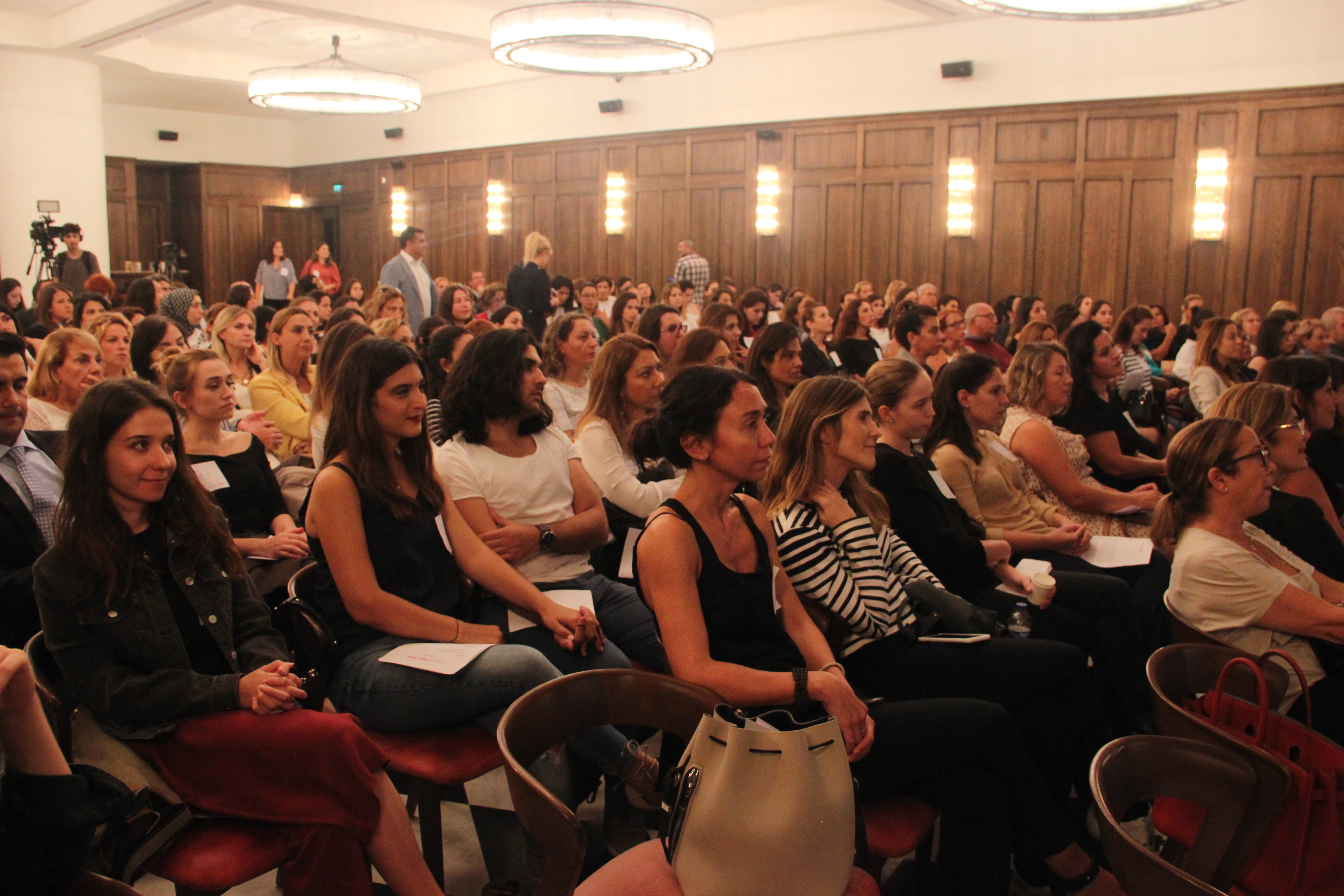 Our first speaker of the night was Cigdem Penn, General Manager of Xsights. Throughout her entrepreneurial career in three countries, Cigdem learned to make tough choices and to never be desperate - watch her talk to learn what we mean! After a few years in corporate roles, Cigdem started Xsights, a global research and consultancy firm, from her living room and took control of her work-life balance. The rest is history! She rocks her career and being a mother of three. Her advice is still ringing in our ears: "If you can learn to embrace fear and change in your choices, the sky is the limit!"
Next we heard from Filiz Akdede, General Manager of HP Turkey. She first took us back to her childhood and her drive to be different from the rest of her family. This led her to become a self-proclaimed feminist at the age of 8: if boys can do something, girls should be able to do it too. She olayed soccer and all the games boys played. Always aiming higher and higher, Filiz worked hard and always found a challenge to rise up to whether it was introducing a printer to the market or leading a multinational company. She busted the myth that women cannot work with other women - at HP Turkey, 60% of the company has women talent. Her parting advice was: "Be open to feedback, listen, but take only the advice that rises from your inner voice."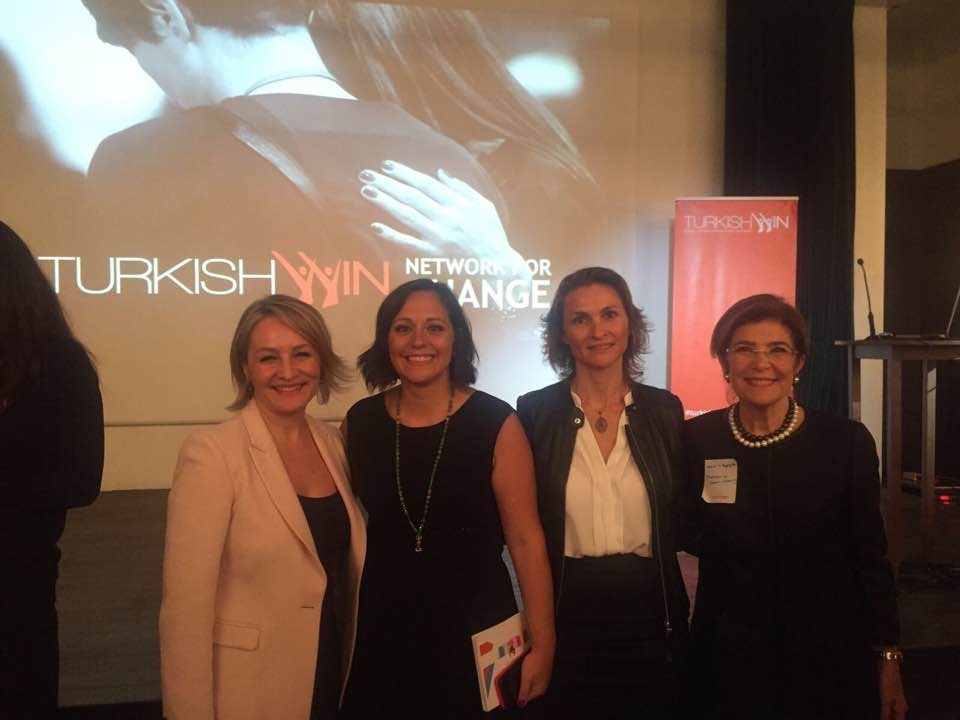 Our four lovely and inspiring speakers!
Our third speaker was Aysem Sargın, CEO of Boeing Turkey. Her first career advice was from her mother, a ballerina who advised Aysem not to follow her mother's steps but to find her own strengths. Aysem had an extraordinary variety of career choices from finance to economic advisor at the U.S. Embassy in Ankara to leading public sector roles at multinationals like BP and GE. Every career move led her to bigger roles and greater challenges, but she never let it keep her from raising the bar. Aysem is the first Turk and first woman to lead Boeing Turkey. Always working in male dominated sectors like energy or defense, her shining armor has been finding "zero-gravity" work cultures for women. She advised all of us to find "zero-gravity" teams and companies to get out of our comfort zones. We were delighted to watch a short film about the many "Rosie the Riveters" who joined Boeing and helped build the planes that were vital to WWII victory and a more inclusive workplace for all.
Our last speaker was Nakiye A. Boyacigiller, Professor of International Management and past Dean of the Sabanci School of Management at Sabanci University. She shook us to our bones and hearts about the way we think about death. While death is in the flow of life, we do not like to talk about it or address the needs of grieving team members or employees. Nakiye took us on her journey of loss and shared ways to cope with death. She lost her mother at the age of 13, a life event that changed the way she thought about loss. As a hard working and promising student, she attended university in the United States and married her college sweetheart. Her academic career took amazing turns and she came back to Turkey to help found Sabanci University where she held the Dean leadership role for a very long time. Nakiye took us through her painful losses of her brother and the love of her life, Ziya, with courage and wholehearted openness.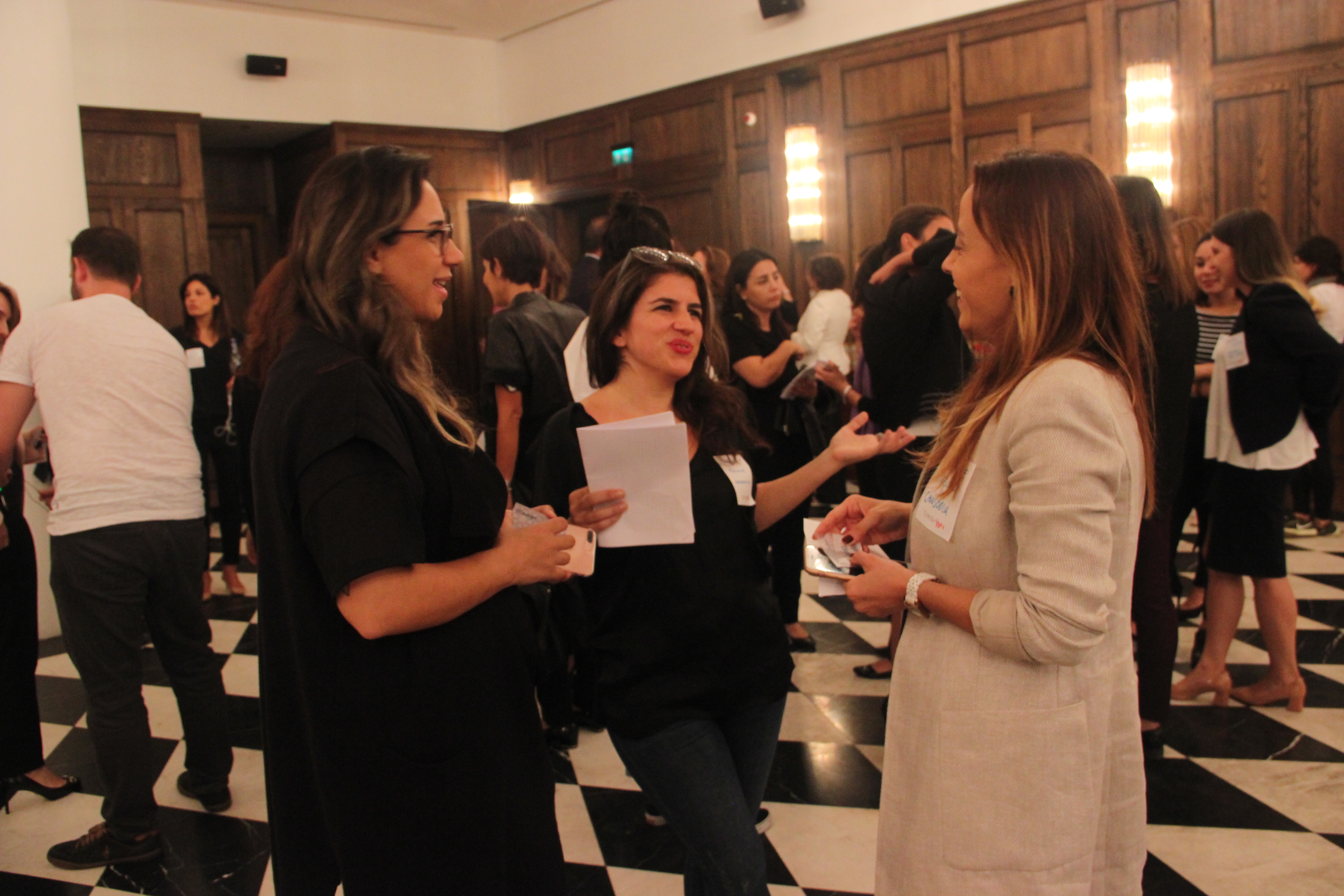 If you are interested, you can read Nakiye's recommended readings here:
Composing a Life by Mary Catherine Bateson
Option B: Facing Adversity,

Building Resilience and Finding Joy by Sheryl Sandberg & Adam Grant

The Other Side of Sadness: What the New Science of Bereavement Tells Us about Life After Loss by George. A. Bonanno
The first TurkishWIN Talks of the season was a night of inspiration, emotions, and thought-provoking moments from four empowering and courageous rock star women. We thank them wholeheartedly for sharing their stories!

We would like to also thank the Soho House for hosting us, Iltek Media for video production and Pernigotti for providing our sweet treats. You can check out event photos here.
TurkishWIN Talks are member-only events. You can become a member online, or follow us on Facebook. You can subscribe to our newsletters filled with inspirational tips and event news here.